Hello .. Welcome to our website which is constantly changing..
*** Gradual Return back to Normal ***
We have pleasure to annouce we started to physically meet at Phoenix Centre venue as from Thursday 9th September 2021 at Midday. See the Event Calender for latest update.
We will observe the usual precautionary measures and follow latest advice and guidlines on group gatherings. Please bring your masks although we will provide them along with hand sanitisers.
=================================================================
We are a group of women and men who are over 50 years young. In normal situations, We regularly meet on Thursday afternoon every week in the London borough of Sutton. Our main meeting venues are The Phoenix Centre in Roundshaw Wallington SM6 where our association is normally based. The other venue is one of the meeting rooms in the Civic Offices, London Borough of Sutton, St Nichollas Way Sutton SM1. When we meet we dance, exercise, play games, chat, eat healthily and above all we go out occasionally to places of interests to have a good and enjoyable times together. Come and join us and have fun !!! Look forward to seeing you..
Wish to donate to us? see below
Donate via LOCAL GIVING - click on button below
Donate via PAYPAL - click on button below
Contact Information
Phoenix Centre
Mollison Drive
Wallington
Surrey
SM6 9NZ
The Committee & ACHA since 2018 with Mayor of Sutton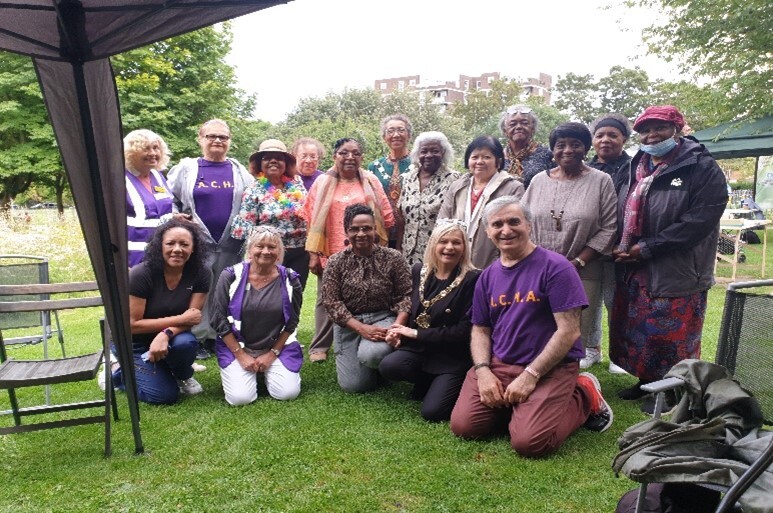 Group of members with Current Mayor of Sutton and Committee members too included